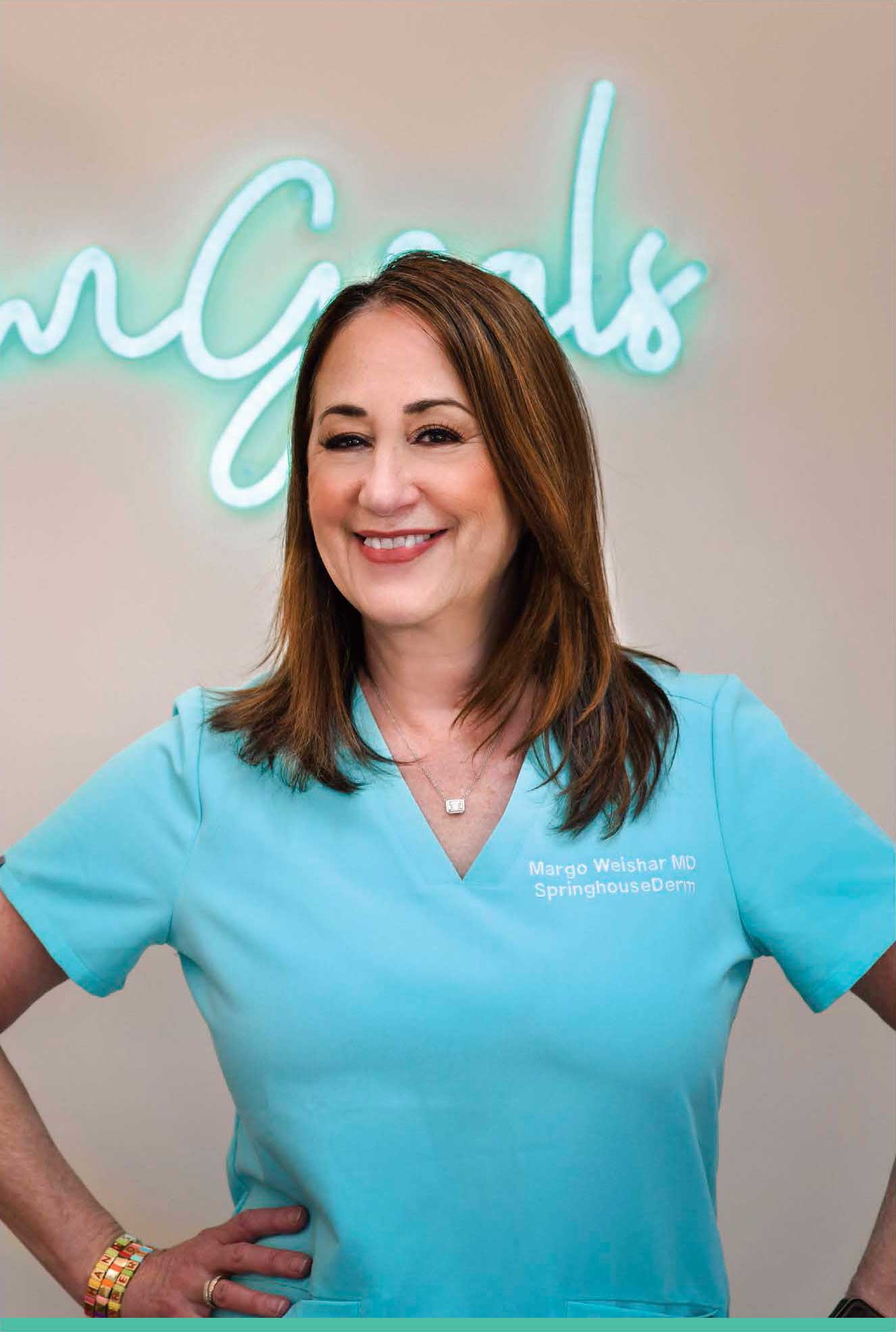 Margo Weishar, MD
Dermatology
Springhouse Dermatology and Aesthetics
904 Sumneytown Pike, Suite 100, Lower Gwynedd, PA
215-542-0655 | springhousederm.com
Q: What is your focus as a cosmetic dermatologist? A: I focus on the procedures and products that help patients achieve their skin goals. The field is vast, encompassing the science behind different kinds of products that are injected into the skin to relax certain movements or to restore areas where age has changed the contours of the face and body. I also have a deep knowledge of the physics underlying the different technologies — laser, radiofrequency, cryolipolysis and ultrasound—that are applied to produce improvements in the skin and body.
Q: Are there any misconceptions people have about cosmetic dermatology? A: The biggest misconception is that someone can learn the techniques of cosmetic dermatology without going through the training. When you are considering a procedure, you want to consult with someone who has indepth knowledge of all aspects of skin health and beauty and has the scientific knowledge to use the procedures safely and effectively. As a board-certificated dermatologist, I have broad expertise in injectable fillers and neuromodulators, laser and other energy-based devices and medical-grade skincare.
Q: What trends are you seeing lately? A: This year has been unique. After spending hours on Zoom meetings, many patients noticed aspects of their appearance that they would like to improve. We've seen an increase in patients who have never had treatments before. In addition, younger patients are seeking information about how they can use advances in skincare to prevent damage before it happens and to lay the foundation for a lifelong commitment to beautiful skin.
Q: What keeps you driven at work each day? A: I love to educate and innovate. I have a wonderful team that is always looking to improve their clinical knowledge and our office efficiencies. As an independent woman-owned and operated business, I pride myself on having delivered top-quality healthcare for almost three decades.
Q: What's new at Springhouse Dermatology? A:During our downtime with the COVID-19 pandemic, we focused on making our practice even more up-to-date and user-friendly when we reopened. We became a completely paperless office where patients can now book appointments online and fill out their information electronically, and we've streamlined the process of checking in and out. We have been a 100 percent COVID-free practice for the year through our extensive protocols, and as healthcare workers, we are now all vaccinated.